Pat Dobie is a writer based in Vancouver, Canada. She writes historical and contemporary fiction about her obsessions, and non-fiction about writing and other activities. An avid traveler and train freak, Pat has traveled by rail in many countries, including China, Outer Mongolia and the land of her ancestors, Scotland.
Find out more about Pat's writing or get in touch.
News…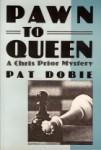 That crucible of invention known as the 3-Day Novel Contest is held every September long weekend. Billed as "The World's Most Notorious Writing Contest," this event has seduced thousands of writers over the years since its founding in the 1970s. Pat's 2018 entry, a novella about a high school reunion gone horribly wrong, made the short list. The winning announcement is still pending.  Read about Pat's experience as a past winner here.

Two weeks of non-stop writing! Mineral School, an arts residency program in Washington state, hosted Pat from September 11-25, 2016, where she worked on a few short stories and the novel MAD AGNES in a classroom converted to a studio space. Read more about Mineral School's residencies here.

Pat's Novel INVENTING PARIS made the shortlist for the Historical Novel Society's  2015 Outstanding New Novel Award. First place went to Cam Terwilliger's YET WILDERNESS GREW IN MY HEART. Read more here.