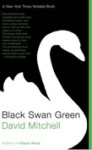 Black Swan Green
In this coming-of-age story—several months in the life of 13-year old Jason Taylor: stammerer, poet, bullying victim—Mitchell uses simple language, never showy, to tell Jason's rise, fall and final rebirth into a new maturity. Mitchell nails the first-person voice and the historical details of early 1980s. Impeccable pacing and a hugely sympathetic protagonist make this a page turner and an immensely satisfying read. One of the few books I've wanted to read again as soon as I finished it.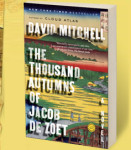 The Thousand Autumns of Jacob de Zoet: A Novel
This is a complex historical novel about a Dutchman who enters the Japanese trading post of Dejima in 1799. The 479-page narrative is omniscient, entering several points of view. Mitchell plays with structure, providing at least one climax in each storyline then not resolving it, instead moving forward in time and only gradually revealing what happened. He also uses many paragraph breaks, ellipses, choppy sentences, at least one long block of rhyming text, and other techniques to separate the reader from the story, and to slow the reader down. It has all the elements of a "fast" read: gripping story, sympathetic protagonists, and lurid elements like occult practices and a "nunnery of freaks", but its dense prose and sensory details war with the reader's urge to find out what will happen—it's neither fish nor fowl, and was sometimes hard to read. The plot keeps turning and Mitchell takes each situation as far as it can go, coddling neither his characters nor the reader, and trusting the reader to make connections.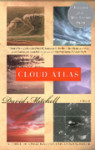 An audacious novel comprised of six novellas, split and nested within each other, each written in a different voice and genre, set in different time periods, and with different protagonists. The novel examines what humans do to each other and to the world: we are predators who become, through our failings, our own prey. Mitchell trusts the reader's ability to sustain engagement with the text even though he violates many 'don'ts' of realistic narrative convention—he abandons characters in mid-story and presents one long section (over 100 pages) written entirely in dialect. Cloud Atlas demonstrates how every novel is a consensual engagement of writer and reader: you get sucked in, then you decide whether to commit to the reading experience—not just once, as in most novels, but six times.
Back to Posts